« Gorgeous playing, lots of imagination – everything! Superb instrumentalist »
Robert deMaine, Principal Cellist of the Los Angeles Philharmonic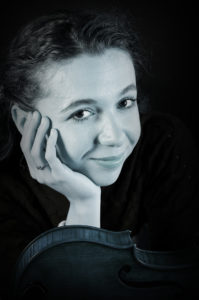 French violist Cynthia Blanchon splits her time between North America and Europe, dedicating herself to various artistic endeavors. As a seasoned orchestral musician, Cynthia currently holds the principal viola position with the Orchestra de l'Agora and has been guest principal with Thirteen Strings Ensemble, the Welsh National Opera and guest co-principal with the Royal Philharmonic Orchestra. She has also performed with the London Symphony Orchestra collaborating with distinguished conductors such as Sir Simon Rattle, Yannick Nezet-Seguin, Valery Gergiev, Esa-Pekka Salonen, and Kent Nagano. Her concerts has led her to perform at prestigious venues such as Suntory Hall, Walt Disney Concert Hall, Musikverein, Elbphilharmonie, Sydney Opera House, Philharmonie de Paris…
Cynthia's love for chamber music blossomed early on, when she performed at the CNSMD in Lyon with Marc Danel and Yovan Markovich from the Ysaÿe quartet. Since then, she has collaborated with a multitude of renowned musicians such as Serhiy Salov, Rainer Küchl, Kevin Lin, and Scott St. John, and has been invited to perform at numerous chamber music festivals such as Music & Beyond, Festival Classica, ProMusica serie, Concerts aux Îles du Bic, Rencontres Musicales de Laterrière, Rencontres Musicales de Haute-Provence, Entre Vents et Marais festival…In 2021, Cynthia recorded the Dvořák piano quintet under the ATMA classique label with the Quatuor de l'Agora and Nicolas Ellis, with whom she embarked on a West Canada tour in March 2023. She is since February 2023 a member of the Myriade quartet based in Montreal.
Aside from her musical performances, Cynthia is also passionate about pedagogy and has been a viola lecturer at the University of Montreal since 2021. She's been teaching at Music at Port Milford since 2022.
With a doctorate completed with distinction under the guidance of Jutta Puchhammer and Juan-Miguel Hernandez, Cynthia's musical journey began at the young age of 16 when she enrolled in the CNSMD in Lyon. Subsequent to that, she honed her skills at the Colburn School in Los Angeles. Driven by a passion for learning, Cynthia has had the privilege of working with some of the most renowned violists, including Hartmut Rhode, Gilad Karni, Hariold Schlichtig and Maxim Rysanov, to name a few. Although the COVID-19 pandemic forced the cancellation of her participation in the Prussia Cove festival twice, Cynthia had previously performed at the Pacific Music Festival in 2018.
A recipient of several national awards such as the Lempdes, Toulouse, and Mouans-Sartoux competitions, Cynthia was also the proud winner of the Mécénat Musical Société Général competition in 2015, which allowed her to play on a Von Baehr viola for three years. Today, Cynthia plays on a Kalata viola crafted in 2016 and a bow made by Arnaud Suard in 2008.