« Gorgeous playing, lots of imagination – everything! Superb instrumentalist »
Robert deMaine, Principal Cellist of the Los Angeles Philharmonic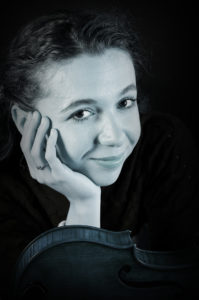 Dividing her time internationally, French violist Cynthia Blanchon devotes her efforts to artistic projects both in Canada and Europe. As an experienced orchestra musician, Cynthia is currently principal viola with the Orchestra de l'Agora and is guest principal with Thirteen Strings Ensemble and the Welsh National Opera. She has performed with the London Symphony Orchestra, Orchestre Metropolitain, Montreal Symphony…collaborating with conductors such as Sir Simon Rattle, Yannick Nezet-Seguin, Valery Gergiev, Esa-Pekka Salonen and Kent Nagano. Her work led her to perform in the most famous venues such as Suntory Hall, Walt Disney Concert Hall, Musikverein, Elbphilharmonie, Philharmonie de Paris…
Her passion for chamber music started early when performed at the CNSMD in Lyon alongside Marc Danel and Yovan Markovich from the Ysaÿe quartet, an experience which lead to several others. Since then she has collaborated with Serhiy Salov, Rainer Küchl, Kevin Lin, Scott St.John and is invited in various chamber music festival such as Music & Beyond, Festival Classica, ProMusica serie, Concerts aux Îles du Bic, Rencontres Musicales de Laterrière, Rencontres Musicales de Haute-Provence, Entre Vents et Marais festival…In 2021, she recorded the Dvořák piano quintet under ATMA classique's label with Quatuor de l'Agora and Nicolas Ellis with whom she will tour in West Canada in March 2023. She is also often invited as guest violist with Quatuor VoxPopuli.
Cynthia also holds a special interest in pedagogy and has been a viola lecturer at the University of Montreal since 2021. She will also be teaching chamber music at Music at Port Milford and CAMMAC next summer for the second time. 
She has completed her doctorate with high distinction under the supervision of Jutta Puchhammer and Juan-Miguel Hernandez. Previous studies include the Colburn School in Los Angeles and the CNSMD in Lyon where she began her undergraduate at age 16. Her eagerness to learn led her to work with the finest violist such as Maxim Rysanov, Hartmut Rhode, Barbara Westphal, Gilad Karni, Garth Knox or Hariold Schlichtig. She was supposed to participate at the Prussia Cove festival back in 2020 (cancelled due to COVID-19) but she did participate in Pacific Music Festival in 2018.
A prize-winner in many national competitions (Lempdes, Toulouse, Mouans-Sartoux), she also won the Mécénat Musical Société Général competition in 2015 which allowed her to play on a Von Baehr viola for three years. Cynthia plays today on a Kalata viola made in 2016 and on a bow made by Arnaud Suard in 2008.